4 Reasons Your Law Firm Should Use a Content Operations Platform
Plain and simple, creating content can get messy. Getting a smooth running content marketing strategy into place is no small undertaking for law firms and legal professionals, especially since law firm marketing processes typically involve a plethora of actors, such as content writers, subject matter experts, SEO specialists, legal editors, and more. With so many moving parts in a law firm's content marketing process, it is critical that law firms utilize a comprehensive content operations platform to manage all actors, streamline content production, and track published content.
The four reasons your law firm should use a content operations platform are:
Ensures frictionless collaboration between attorneys and markers;
Enables easy identification of bottlenecks and critical issues in the content production process;
Guarantees multiple sets of eyes on an article before publishing; and
Empowers scalability and seamless onboarding of new users.
We have encountered countless law firms that want to implement an effective content marketing strategy, but do not want to first establish the necessary framework. Remember, it is far easier to organize your content when you have a strategic game-plan already in place than it is to retroactively go back and try and "squeeze" everything into order.
Below, we walk through four reasons why your law firm should use a content operations platform to streamline your content marketing and publishing processes. We also recommend one content operations platform that we use and makes for a quick onboarding process – so you can get your content marketing processes up and running right away.
Ensures Frictionless Collaboration Between Lawyers & Marketers
The bigger the law firm, the more fragmented its departments often are. Think about it. Some law firms have offices spread across the globe, thousands of attorneys and employees, and are operating on different time-zones. Even smaller law firms and legal practices rarely see a collaboration between attorneys and other departments (ex. marketing, public relations, accounting).
Content coordination and collaboration between multiple (sometimes more) attorneys, legal writers, content marketers, and editors across various offices and timezones is no easy task.
Additionally, with the average attorney hourly rate ranging from USD $100 to $200 in small towns and cities, and $200 to $400 in bigger cities, every minute of an attorney's time is valuable. Every minute of the content process that is expedited can potentially save a law firm or legal professional large amounts in the long-run.
Utilizing a content operations platform to streamline content production and publishing not only provides a single platform for all communications, drafts, and edits to take place on, but it also eliminates unnecessary clarifications and back and forths amongst attorneys and marketers (and writers) and thus ensures that attorney time is efficiently spent on providing legal services to clients.
Enables Your Law Firm to Identify Bottlenecks & Key Issues in Content Production
Look, you are going to run into bottlenecks and issues when creating content. It is inevitable. However, what separates a well-oiled content marketing framework from a poor one is the ability to dig yourself out of a hole. To streamline a content production and publishing process, bottlenecks and crucial issues hindering publication should be both easily identifiable and remediable.
Think of content collaboration platforms as a "watchtower" in the way that they enable you and your law firm to enjoy a bird's eye view of the entire content production process. Content collaboration platforms enable users to view their workflows in a highly granular way, so that you can easily pinpoint what went wrong and where it went wrong without having to uproot your entire process.
For example, content collaboration platforms allow for customized color codes, checklists, workflow stages, and asset fields to track a piece of content's entire lifecycle – from start to finish.
One legal client of ours employs a 15-step content workflow process that explicitly defines and outlines each workflow stage – from ideation and outline to publication and technical SEO review. Each workflow stage boasts its own guidelines and parameters, checklists, and asset fields, so there is no confusion about what needs to be accomplished at each stage. Should a content marketer, writer, or attorney fail to "check the requisite box" or upload the necessary asset, it is extremely easy to identify and fix.
Guarantees Multiple Article Reviews Before Publishing
When it comes to publishing legal content on the Internet, it is critical that attorneys and law firms provide both accurate and up-to-date information (ex. relevant laws, regulations, and guidelines) and write authoritatively. Oftentimes, prospective clients and readers stumble on a law firm's blog or legal resource center while in a state of panic and vulnerability – unsure of their legal rights and in need of guidance on what steps to take next.
Failing to provide accurate and up-to-date legal content to your readers could have disastrous effects on some, such as:
Misinterpreting their legal rights,
Missing important deadlines (ex. filing a claim outside their state's respective statute of limitations),
Worsening an already dire situation (ex. leading to the Streisand Effect), or even
Taking incorrect legal action.
You always want multiple eyes on every piece of content you publish. Trust us. We have worked with several law firms that were previously on receiving end of cease and desist letters and threats of litigation due to sloppy content that
Furthermore, should a law firm utilize too casual of a tone in its legal content, they risk prospective clients and readers not taking their services seriously. The importance of a law firm's website content having correct case citations, professional language, and not opening them up to legal liability with "sloppy language" is supreme.
For example, the American Bar Association's Model Rules of Professional Conduct Rule 7.2 prevents lawyers from stating or implying that they are a certified specialist in a specific area of law unless they hold an actual certification from an appropriate governing body. A law firm's legal writer or content market may not have a law degree or extensive knowledge of the American Bar Association's governing rules and ultimately publish content that avails a law firm to legal liability and disciplinary action.
Content collaboration platforms enable parties in charge of a law firm's content creation to establish guidelines for each blog post and article (landing pages included). This ensures that sloppy and incorrect language, improper case citations, and irregular writing styles are curbed before content is published and promoted across social media channels. Users may also create several "workflow" stages that pass the article or piece of content off to a second (or third) set of eyes, so nothing slips through the cracks.
Empowers Scalability & Easy Onboarding of New Users
Should your content marketing strategy go to plan, then you will likely attempt to scale it and onboard new users. New users could be anyone from freelance writers, to technical SEO specialists, all the way to content designers (ex. think of playbooks, flowcharts, and other visual assets).
Content operations platforms enable law firms and legal professionals to establish explicit blueprints, guidelines, checklists, and asset fields atop every single stage of the workflow. These are especially useful for creating and packaging onboarding content for new users. Now, every freelancer, writer, marketing specialist, or designer, knows exactly what is expected and required from them when creating and publishing content.
The Content Operations Platform That We Recommend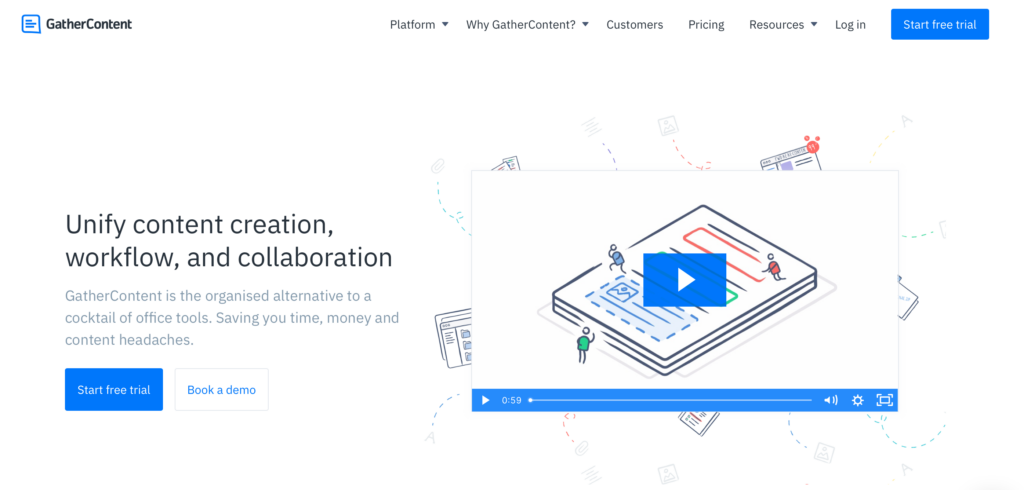 We at BlockchainSEO recommend GatherContent for law firms (or anyone) seeking an easy-to-use, easy-to-onboard, and comprehensive content operations platform.
GatherContent has saved our clients substantial time (and money) over the years, thanks to its highly customizable workflow framework and has been there for us with any urgent customer service issues and questions we (or our clients) have needed resolving.
On the fence about whether a content or SEO strategy is right for your law firm? Make sure to check out our post detailing why lawyers need a law firm SEO expert.
We Can Help You Get a Custom Content Marketing Plan Up & Running
Getting a content marketing operation and strategy up and running can be extremely overwhelming. But don't worry – we are here to help. At BlockchainSEO, we have helped dozens of clients create customizable content marketing workflows and campaigns.
Our primary goal is to empower your law firm to establish a content operations strategy and maintain it without third-party help. We provide content consulting services to get you started with generating eye-catching, high-converting content, so that you and your law firm can self-sustain in an otherwise cutthroat marketplace.
Reach out to us for a free, initial no-obligation consultation to discuss how we can help you develop a content strategy and grow your business.
Finally, make sure to keep up with our blog for informative content marketing articles and blockchain write-ups!
-Obiter Cryptum